Published: 19 February 2014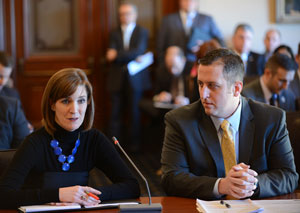 State Senator Michael Hastings (D–Orland Park) moved legislation today that would make it a felony to post sexually explicit videos or photos of another person, without their consent, to an Internet site.
"Revenge porn is the ultimate form of cyberbullying, and we currently don't have a criminal recourse that would deter a person from committing this heinous act," Hastings told members of the Senate Criminal Law Committee.
Diana Pisone, a resident of Oak Park who testified at the hearing, said her ex-husband threatened to post explicit pictures and videos of her on the Internet in 2010. At the time, her only course of action was to file an emergency order of protection against him, which has since expired. She is now worried that her ex-husband could follow through on his threat at any time.
"Those pictures and videos are a noose around my neck," Pisone said during her testimony.
Category: Press Releases