Published: 24 October 2014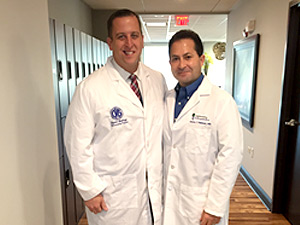 MATTESON - Senator Michael Hastings (D – Tinley Park) recently joined Dr. Anton J. Fakhouri, M.D. as a part of the Chicago Medical Society's partnership with physicians in the South Suburbs.
The purpose of the partnership program is to increase awareness of how legislation and policy impact the day-to-day lives of physicians and patients. Hastings visited the Mokena Campus of MidAmerica Orthopaedics and completed rounds with Dr. Fakhouri to gain a better understanding of the work physicians conduct every day.
"The relationship between policymaking and medical practice impacts the well-being and quality of care for everyone in Illinois," Hastings said. "By witnessing a day in the life of Dr. Fakhouri and the challenges he faces, I will be able to apply his practical experiences to my policymaking decisions in Springfield."
If you want to learn more about MidAmerica Orthopaedics you can find more here: http://midamericaortho.com/
Category: Press Releases