Published: 21 October 2015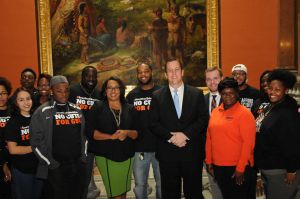 TINLEY PARK- As lawmakers returned to Springfield for Tuesday's session, so did bus loads of college students. They came to the capital to discuss their concerns over the cuts to higher education that the governor has proposed. The dramatic cuts to state universities and MAP grants could cause tuition rates and class sizes to rise, as well as force colleges to cut staff and administrative positions.
State Senator Michael Hastings (D-Tinley Park) had the opportunity to speak with students from Governor's State University, located near the 19th district.
"Governor's State is an incredible university that prides itself on offering affordable tuition. If these cuts are implemented that would severely limit their ability to continue offering it," Hastings said. "Cutting funding to universities would absolutely devastate the higher education system in Illinois."
This year, Senator Hastings and his colleagues voted multiple times to fund Illinois universities and MAP grants, but all of these measures failed to be signed into law.
Kaylee Barron, a student from Tinley Park who attends the University of Illinois Urbana-Champaign, spoke to how the budget cuts would impact her in the audio clip below.
.
Category: Press Releases