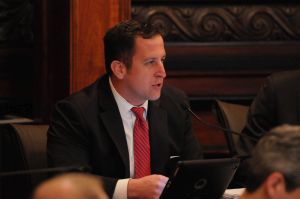 SPRINGFIELD – Undocumented veterans currently struggle with the citizenship process, and a resolution introduced by Senator Hastings would urge Congress to reform that process.
"All veterans risk their lives to protect our freedoms. As a veteran I find it appalling that our government is currently deporting veterans," Hastings said. "If anything the government should be actively working to help those undocumented veterans on the path to citizenship and expedite their path."
Many veterans return home and struggle to integrate back into normal life. Some veterans who had legal permanent residence though were deported after returning to the United States.
Senate Resolution 1913 recognizes the risks many undocumented veterans undertook in serving the United States. It also urges the United States Congress to pass the Restoring Respect for Immigrant Service in Uniform Act, HR 5012.
HR 5012 would prevent the deportation of veterans who have not committed a felony or significant misdemeanor. It also urges the U.S. Department of Homeland Security to allow veterans to be re-admitted to the United States if they have not committed a serious crime.
The resolution has been adopted by the Illinois Senate.
Category: Press Releases