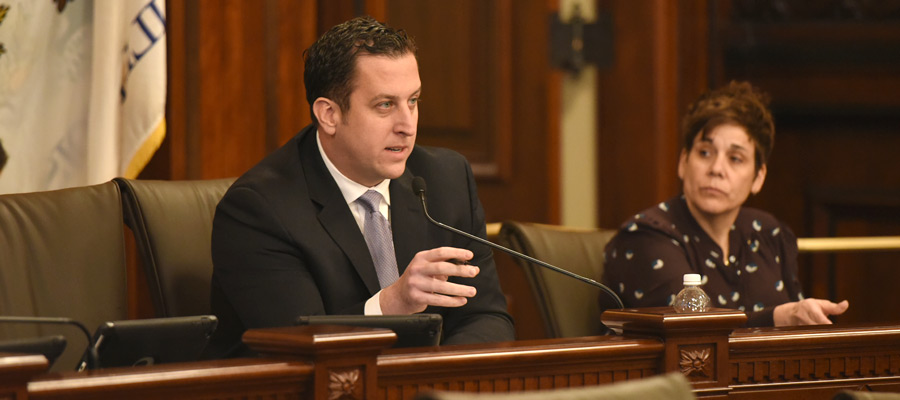 SPRINGFIELD – To help Will County residents stay warm during the winter, State Senator Michael E. Hastings (D-Tinley Park) is partnering with fellow lawmakers to launch a winter clothing drive.
From Nov. 25 to Dec. 13, local and state elected officials will work to provide organizations throughout the region with the necessary goods that benefit Will County residents.
"The winter months in the South Suburbs are brutal and unforgiving," Hastings said. "Those who struggle to come by adequate winter gear know this fact better than anyone, which is why I'm proud to join my colleagues to ensure that anyone who is in need has access to the clothing necessary to stay warm this winter."
Organizations are in need of all sizes of gently used or new winter gear including coats, socks, sweatshirts, scarves, gloves and more.
Hastings joins State Senator Jennifer Bertino-Tarrant (D-Shorewood), who spearheaded this initiative.
"Seniors, children and veterans in our own communities may struggle to afford the proper winter gear to survive the season," Bertino-Tarrant said. "For you it may be a simple gesture, but to our neighbors who need an extra helping hand, it may mean the world."
Hastings urges residents to drop off donations at the following sites:
• State Senator Michael E. Hastings' Office (20855 S. LaGrange Rd., Suite 102, Frankfort)
• State Senator Jennifer Bertino-Tarrant's Office (15300 Rt. 59, Unit 202, Plainfield)
• State Senator Napoleon Harris' Office (1350 E. Sibley Blvd., Suite 403, Dolton)
• State Senator John Curran's Office (7501 Lemont Rd., Suite 315G, Woodridge)
• State Senator Patrick Joyce's Office (270 Main St., Park Forest)
• State Senator Pat McGuire's Office (16151 Weber Rd., Suite 103, Crest Hill)
• State Senator Sue Rezin's Office (1421 N. Division St., Morris)
• Plainfield Village Hall (24401 W. Lockport St., Plainfield)
• Channahon Village Hall (24555 S. Navajo Dr., Channahon)
• Romeoville Village Hall (1050 Romeo Rd., Romeoville)
• Crest Hill City Hall (1610 Plainfield Rd., Crest Hill)
• Mokena Village Hall (11004 Carpenter St., Mokena)
• Wilmington City Hall (1165 S. Water St., Wilmington)
• Rockdale Village Hall (79 Moen Ave., Rockdale)
• Lockport City Hall (222 E. 9th St., Lockport)
• Manhattan Village Hall (260 Market Pl., Manhattan)
• Joliet City Hall (150 W. Jefferson St., Joliet)
The winter clothing drive will benefit the Will County Veterans' Assistance Commission and other organizations in the region.