Published: 28 January 2019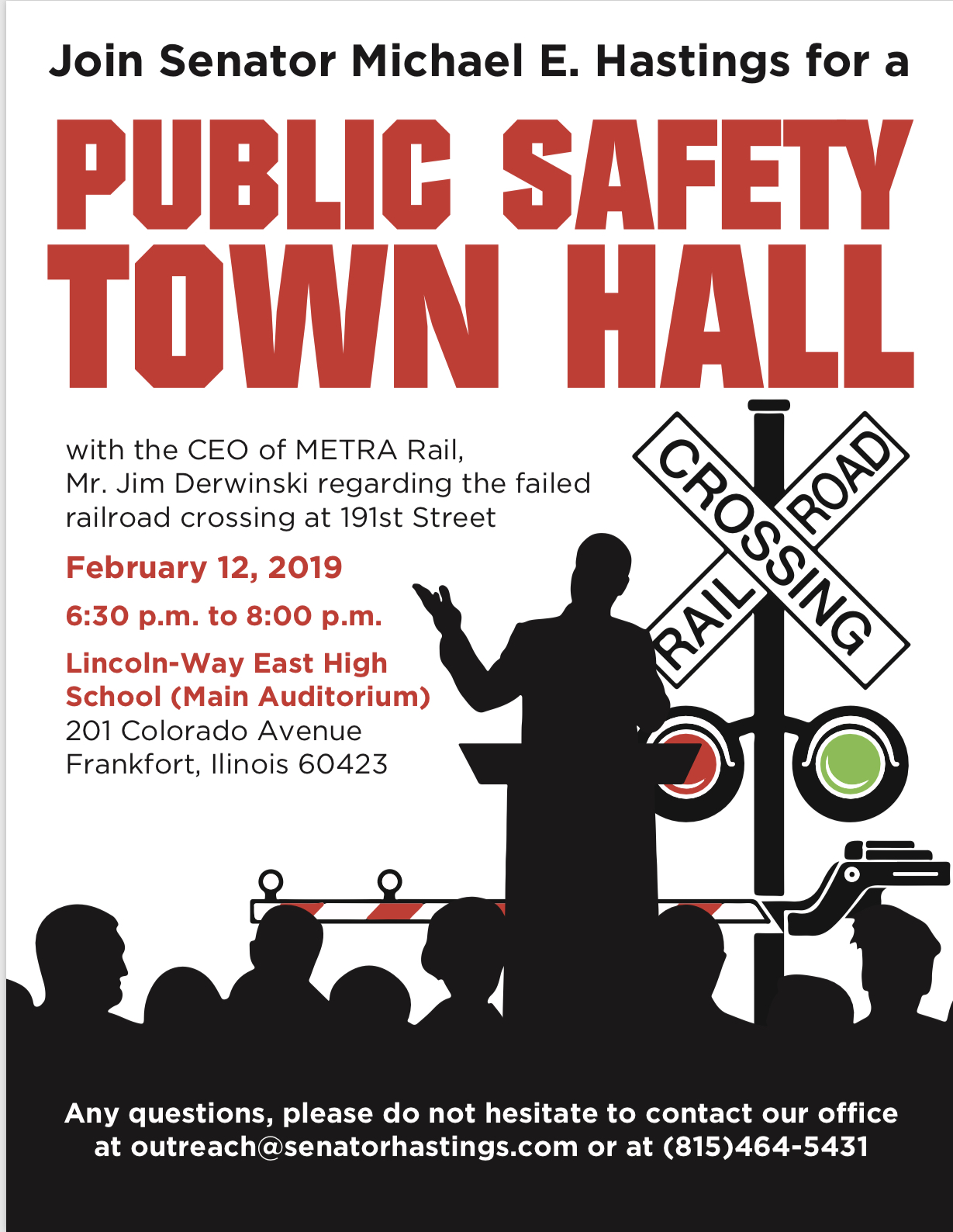 FRANKFORT – To address ongoing safety concerns at the 191st Street railroad crossing in Mokena, State Senator Michael E. Hastings is calling a Public Safety Town Hall Meeting.
Hastings is inviting local residents to attend the Public Safety Town Hall Meeting on Tuesday, Feb. 12, from 6:30 to 8 p.m. at Lincoln-Way East High School (201 Colorado Ave., Frankfort, IL).
The crossing failure happened on Nov. 9 and nearly caused an accident when one vehicle barely made it across the tracks before a Metra train passed through. A Mokena police vehicle was also nearly hit but was able to swerve away before crossing the railroad and captured the incident on dashboard video.
Hastings was horrified after watching the dashcam footage and hearing firsthand accounts of the near fatal accident.
"This accident could have easily turned tragic. It is simply unacceptable," Hastings said "Our goal is to ensure the Metra has a comprehensive and effective plan in place that is approved by local residents. It's absolutely vital that whenever residents arrive at the 191st Street railroad crossing, they feel safe and trust the precautions that are in place."
The CEO of Metra Rail, Mr. Jim Derwinski, staff and the Illinois Commerce Commission will give a presentation at the town hall explaining what happened at the crossing and the safety precautions being taken to fix this problem.
The town hall will also be streamed on Facebook on Hastings' Facebook page, Michael E. Hastings (@HastingsforIL), and Mokena Neighborhood Watch. Participants will be able to ask questions through the Facebook live video.
In 2013, there were a total of 2,090 crashes involving vehicles at railroad crossings in the United States. These accidents led to a total of 249 deaths – about 20 deaths per month.
"We need to take every available precaution to ensure our community's rail crossings are as safe as possible," Hastings said. "Government works best when there is constant feedback and input from citizens. I urge area residents to submit questions and play an active role in keeping our community safe by attending this vital town hall meeting."
If local residents have any questions, Hastings urges them to call his Frankfort office at 815-464-5431 or email This email address is being protected from spambots. You need JavaScript enabled to view it..
Category: Press Releases