Published: Tuesday, January 8, 2013, 11:00 PM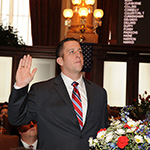 State Senator Michael Hastings (D – Orland Park) was sworn in today as the Illinois State Senator for the 19th Legislative District.
"I am humbled to be sworn in as a member of the Illinois Senate today," Hastings said. "Voters in the southwest suburbs have entrusted me to work with legislators from across the aisle and the state in solving the pressing issues of our time. I take this responsibility very seriously, and am prepared to serve the residents of the 19th district."
Hastings recently served as a U.S. Army captain, leading combat operations in Iraq during Operation Iraqi Freedom, and has also served as the Vice-President of Consolidated High School District 230, which encompasses portions of eighteen southwest suburban municipalities. Hastings worked for Johnson & Johnson during the height of the economic recession, helping turn around a failing division.
Category: Press Releases