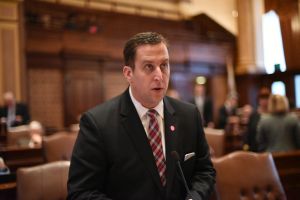 SPRINGFIELD – Senator Michael Hastings (D-Tinley Park) sponsored legislation to modernize the state's child support laws, by requiring both parents' income to be considered in determining child support.
"Illinois has a lot of archaic laws. The child support laws on the books do not consider the modern family when determining the necessary child support for many families," Hastings said.
House Bill 3982 would update a portion of Illinois Marriage and Dissolution of Marriage Act for the first time since 1984.
The new model is called the "income shares" model. It would consider the income of both parents and what it would be if they were living together. It also would modernize the costs of raising a child in Illinois.
"It is time we bring Illinois in line and make a more equitable system for not only the child, but for both parents involved in raising that child," Hastings said.
This legislation passed the House. Should HB 3982 be signed into law, Illinois would join 38 other states and the District of Columbia in utilizing the income shares model.