Published: 02 February 2016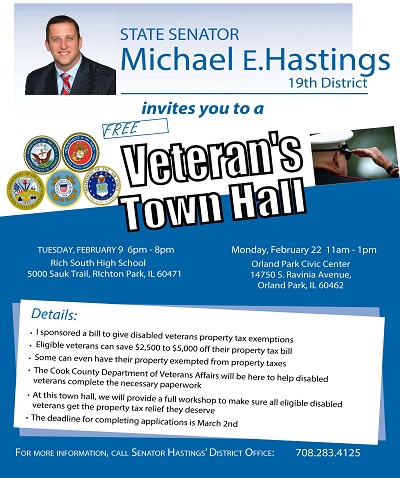 SPRINGFIELD- For many disabled veterans, the stress of rising property taxes simply adds to a long list of physical and mental ailments they face. Last summer, State Senator Michael E. Hastings (D-Tinley Park) co-sponsored a plan that would ease the property tax burden on them. Under the proposal, veterans can reduce their EAV by $2,500 to $5,000 off their property tax bill while some could even have their property exempted from property taxes.
Senate Bill 107 was signed into law in August of last year, and the Cook County Assessor's office will have the application paperwork available on the Cook County website later this month. Senator Hastings will be hosting a town hall to help veterans complete and turn in the paperwork before the March 2 deadline.
The first town hall will be on Tuesday, February 9 from 6:00 p.m. to 8:00 p.m. at Rich South High School, 5000 Sauk Trail, Richton Park, IL 60471.
The second town hall will be on Monday, February 22 from 11:00 a.m. to 1:00 p.m. at the Orland Park Civic Center, 14750 S. Ravinia Avenue, Orland Park, IL 60462.
"I want to bring all of the veterans in the area together with representatives from Cook County so that everyone who needs to fill out the proper paperwork does so on time," Hastings said.
The proposal provides for the following property tax exemptions to be implemented:
• If a veteran has a service connected disability of 30-50 percent, their annual exemption is $2,500
• If a veteran has a service connected disability of 50-70 percent, their annual exemption is $5,000
• A veteran who has a service connected disability of 70 percent or more their property is exempt from taxing
• Prevents any accessibility improvements that are made to disabled individuals' residential properties from increasing the assessed value of the property.
Category: Press Releases