Published: 13 August 2015
Dear Friends,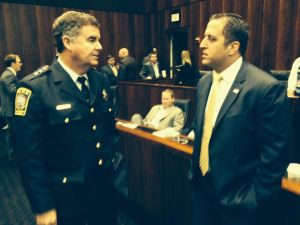 With the unfortunate events brought on by the deaths of Michael Brown in Ferguson, Missouri and Eric Garner in Staten Island, New York, I joined my colleagues in the Illinois House and Senate in supporting a comprehensive law enforcement reform package.
As a part of a comprehensive negotiation process, community groups, law enforcement officials, States' Attorneys and the Attorney General's office were all invited and participated in providing a solution.
As a result, Senate Bill 1304 passed both chambers and was signed by the governor today. The legislation provides the following:
• Allows municipalities to equip police officers to wear body cameras to record their interactions over the course of the work day
• Requires all officer involved deaths to be investigated by independent investigators to prevent any improprieties, after which the report must be made public
• Prohibits the use of chokeholds when detaining individual offenders
• Increases the training requirement for all local law enforcement officers, including additional curriculum for basic training, and requirements for continuing in-service training
• Creates a Commission to review current training and certification process for law enforcement officers,
This plan will ensure that our communities will remain safe and allow for police officers to follow safer guidelines for interacting with people. Furthermore, the plan will give the public access to more information surrounding officer-involved deaths to prevent any misinformation caused by the media.
If you have any questions regarding this, please feel free to contact my office at any time.
For Illinois,
Michael E. Hastings
Senator 19th legislative district
Category: Press Releases