Published: 25 September 2015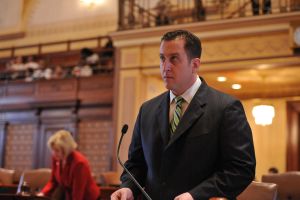 TINLEY PARK-As a veteran of Operation Iraqi Freedom and as a strong supporter of our current military, I am very pleased to see that the candidates for the 2016 elections are already talking about veterans' issues.
One thing that they and all our elected officials need to address is the health care situation that caused so much concern for the Veterans' Health Administration (VHA) last year - namely, excessive caseloads and long wait times for sick veterans seeking care.
Unfortunately, those problems are still ongoing. As recently as November 2014, some 600,000 veterans were on wait lists of a month or more, and that number equates to about 10 percent of all VA patients.
Since last year, the number of veterans on wait lists has increased by more than 50 percent. Appreciate the fact that these delays aren't just inconveniences. Health conditions can become more complicated the longer a patient is forced to wait for care. Such a widespread, systemic problem needs to be addressed at once.
The issue with VA facilities isn't that they don't have quality people. It's that they aren't able to use the talented staff they do have to their fullest potential. In particular, Advanced Practice Registered Nurses (APRNs) are not considered full practice providers under current VHA policy. This is out of step with the Department of Defense, which already utilizes APRNs to treat active-duty troops.
It certainly shouldn't be a controversial decision, as APRNs are highly qualified to take on a bigger role in VA hospitals and clinics. Many people are surprised to learn that, in addition to a bachelor's degree, APRNs hold graduate degrees, multiple certifications, hours of clinical experience and enroll in continuing education courses. APRNs are, without a doubt, capable of much more than they are currently allowed to do in VA facilities. Make use of their extensive education and training to allow veterans to be treated in a timely manner.
Moving forward, recognizing APRNs as full practice providers will increase overall access for all veterans. Our veterans have sacrificed plenty for us, and the least we can do for them is improve their access to quality health care.
The 2016 presidential candidates don't need to wait to win next year to do something tangible regarding this proposal. Merely discussing it raises awareness and garners more support. But, more importantly, some candidates may even be in the position to take action in their current offices.
Our elected officials on both sides of the aisle should support this common-sense effort. Recognizing APRNs as full practice providers is a step in the right direction to serving our veterans with the expedient health care they deserve.
Do it without delay.
Category: Press Releases