Published: 08 December 2015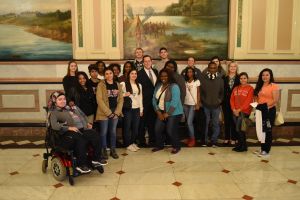 SPRINGFIELD- State Senator Michael E. Hastings (D-Tinley Park) voted Monday to approve the release of over $3 billion to local governments and other state programs. The plan, which included funding for heating and energy in senior and low-income households, local government's share of the motor fuel tax and funds to pay for Lottery prizes, had been held up as a result of the budget impasse.
"This is the first step in compromising and a small step in the right direction. I'm tired of seeing our state government hamstring our local governments," Hastings said. "We are struggling in the South Suburbs because of the budget impasse. It was my top priority when I took office to ensure we put our towns in positions where they can serve our people. This authorization will give many families, as well as local governments in the Southland some much needed breathing room."
The bill passed the Senate by a vote of 53-0. It includes funding for many programs including:
• $582.5 million to IDOT for local governments share of motor fuel gas tax revenues.
• $31 million to IDOT to purchase road salt.
• $43 million to the Community College Board for career and technical education activities.
• $45 million to the Dept of Revenue so local governments can receive their share of video gaming proceeds.
• $28 million for nursing home licensing and inspections.
• $165 million for home heating bill assistance.
• $77 million for 911-related costs.
• $1 billion to the Lottery for prizes.
• $3.1 million to the Illinois Math and Science Academy to allow them to access their income funds and pay operating costs.
• $31 million to IDOT to purchase road salt.
• $2.5 million for breast cancer services and research.
• $3.1 million to the Illinois Department of Public Health for the Tobacco Quitline.
Senate Bill 2039 was signed into law by the governor on December 7.
Category: Press Releases