Published: 19 January 2016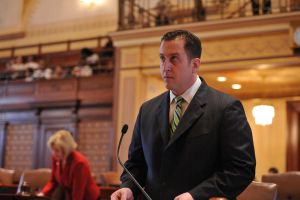 SPRINGFIELD- With the state entering its seventh month without a budget in place, State Senator Michael E. Hastings (D-Tinley Park) is focused on ensuring that the state keeps its obligation to Illinois school districts. The former School District 230 Vice President reached out to the governor, comptroller and chairman of the State Board of Education to stress the importance of General State Aid to education funding, and asked that they make school funding payments a priority.
"During such a tumultuous time in Springfield, committing to our students is a bipartisan, common sense decision," Hastings said. "Our schools need this money, and it should be a guarantee for them. That's what I communicated in my correspondence with the governor."
Some schools districts in the 19th district and across Illinois have already had to enact cost saving measures in past months. The Lincoln Way School District 210 board voted in August to close Lincoln-Way North High School in an attempt to regulate the districts' financial status.
"It was absolutely heartbreaking to see friends, families and classmates being pulled apart when Lincoln-Way North closed," said Hastings.
"People in my district are sick of the quality of education constantly suffering. They want a guarantee as to the state's commitment to them, and that's what they deserve," Hastings said.
Category: Press Releases