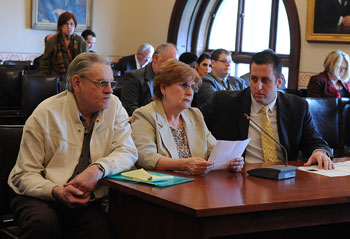 Losing a loved one in an automobile accident can be terribly traumatic for families. That heartache, however, can be multiplied if the driver that caused the wreck is sentenced to court supervision.
Currently, Illinois law allows a judge to sentence drivers in such wrecks to supervision, a mild form of probation. But thanks to legislation sponsored by State Senator Michael Hastings (D-Orland Hills) that just passed the Senate, judges soon will be prohibited from sentencing offenders to what one lawyer called "slap-on-the-wrist fines."
The lawyer was representing the family of a woman who was killed crossing a street in Chicago's Lakeview East neighborhood in August 2011. A cab driver was found guilty of failure to yield to a pedestrian and sentenced to court supervision and a fine of a few hundred dollars.
A similar incident a month later in McHenry County took the life of a Rockford woman. The driver in that case told police he was distracted by his cell phone and ran a stop sign and struck a car driven by Patricia McNamara, killing her.
The driver had three prior speeding tickets but negotiated a plea deal for failure to obey a stop sign. He was fined and ordered to take four hours of traffic safety as part of his court supervision, which means no conviction will appear on his driving record. Walter and Carol Speer, McNamara's parents, took issue with this during a recent committee hearing.
"My daughter's death is not a petty offense. The man admitted to all the claims against him," Carol Speer said. "Why wasn't he charged with reckless and distracted homicide? Why wasn't his driver's license revoked?
HB 1010 — dubbed Patricia's Law — will prevent a judge from ordering supervision in cases in which a moving violation was the cause of death in a car accident.
"You should not receive a 'slap on the wrist' if you kill someone while driving recklessly," Hastings said. "We have to continue cracking down on the overuse of court supervision."
HB 1010 passed the Senate on Tuesday with bipartisan support and now awaits the governor's signature.
Category: Press Releases