Published: 05 August 2013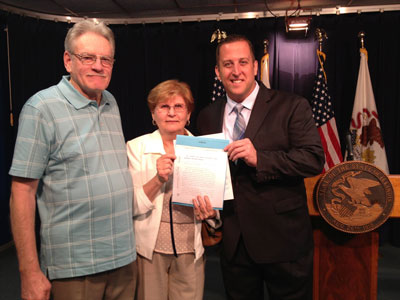 CHICAGO – A traffic safety measure sponsored by Senator Michael Hastings (19-Matteson) was signed by the governor recently, a new law intended to prevent dangerous drivers from getting court supervision after a fatal accident.
"I commend the legislature for passing this and the governor for signing it," Secretary of State Jesse White said. "I would also like to commend the Spears Family for their support of Patricia's law."
Sponsored by Senator Hastings and State Representative John D'Amico (15-Chicago), House Bill 1010 known as Patricia's Law is named after Patricia McNamara, who was killed by a distracted driver who was then fined and sentenced to court supervision. This meant that no conviction appeared on the driver's record. The new law prohibits a court from granting supervision to anyone charged as the result of a fatal accident if that driver has had prior court supervision.
"We have to continue strengthening our laws to curb egregious overuse of court supervision," Hastings said. "I was shocked to learn that someone who had caused a fatal accident could qualify for court supervision."
The law takes effect January 1, 2014.
Category: Press Releases