Published: 24 October 2013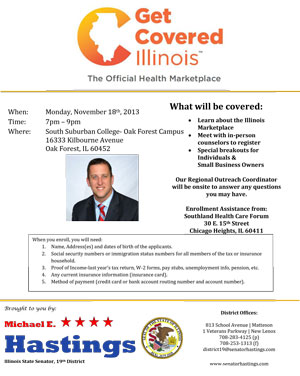 SPRINGFIELD – State Senator Michael Hastings is hosting "Get Covered Illinois", an event to provide information and generate awareness about the new health insurance marketplace. Illinois' marketplace, or "exchange," is named Get Covered Illinois and is a new option under the Affordable Care Act that will make comparing, selecting and enrolling in health coverage easier.
The event will be 7–9pm, Monday, Nov. 18 at the South Suburban College-Oak Forest Campus, 16333 Kilbourne Ave. in Oak Forest. Staff will be available at the event to answer questions about the marketplace and assist residents with navigating the "Get Covered Illinois" website.
About 1.8 million Illinoisans, or 15 percent of the population, are uninsured. An estimated 1 million Illinoisans who currently have no health insurance will be able to be covered for the first time either through the marketplace or through an accompanying Medicaid expansion.
Coverage begins Jan. 1 for people who sign up by Dec. 15 through the exchange. After that, they can still enroll through the end of March to avoid penalties for 2014.
Category: Press Releases