Published: 19 February 2014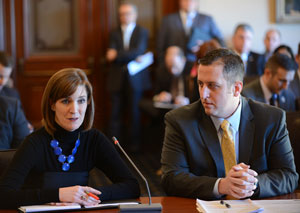 State Senator Michael Hastings (D–Orland Park) moved legislation today that would make it a felony to post sexually explicit videos or photos of another person, without their consent, to an Internet site.
"Revenge porn is the ultimate form of cyberbullying, and we currently don't have a criminal recourse that would deter a person from committing this heinous act," Hastings told members of the Senate Criminal Law Committee.
Diana Pisone, a resident of Oak Park who testified at the hearing, said her ex-husband threatened to post explicit pictures and videos of her on the Internet in 2010. At the time, her only course of action was to file an emergency order of protection against him, which has since expired. She is now worried that her ex-husband could follow through on his threat at any time.
"Those pictures and videos are a noose around my neck," Pisone said during her testimony.
Hastings noted that revenge porn is a growing problem with the rise of social media, when photos and videos that were made privately during a relationship can make their way onto hundreds of websites. Oftentimes, the posts include names, addresses, e-mail addresses and other information that invites varying forms of harassment, including cyberbullying and cyberstalking.
"This can be extremely devastating and humiliating to an unsuspecting victim," Hastings said. "There are reported instances where the victims are forced to change their names and even move to escape the barrage of unwanted harassment."
In Illinois, it is illegal to post identifying or graphic information of a minor, or an adult without consent, on a pornographic site, but there is currently no state law to prevent exes from sharing explicit photos after a bad breakup. If passed, the law would make revenge porn a Class 4 felony, punishable by up to 3 years in jail and a $25,000 fine.
The proposal, Senate Bill 2694, was approved unanimously by the Criminal Law Committee and now moves to the full Senate for consideration.
If passed, it would also make it felony to host a website that requires victims to pay a fee to have the explicit videos or photos removed.
After testifying in the Senate Criminal Law Committee, Sen. Hastings and Ms. Pisone talked about the importance of the bill in our studio.
Category: Press Releases