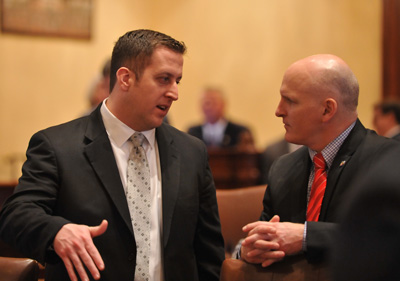 TINLEY PARK – A new measure that is making its way through the Statehouse would ensure funds collected from the sale of the shuttered Tinley Mental Health Center will stay in Tinley Park and the surrounding area.
The measure's sponsor, State Senator Michael Hastings (D–Tinley Park), explained that after the Mental Health Center closed, many of the facilities' patients were placed in community-care settings that were not financially prepared to account for the influx of new patients.
"Before I entered office, the state failed to plan for displacing patients at Tinley Park Mental Health Center," Hastings said. "You put a financial strain on a community anytime you close a facility of that size. With this legislation, proceeds from the sale of the facility will go back to the community to help pay for mental health services."
Under current law, the proceeds of a state-owned mental health center would be spent at the discretion of the Department of Human Services. There is no guarantee of any money coming back to the suburbs to provide for those with mental health or developmental disabilities. Under Hasting's plan, nearly half of the proceeds from the sale of a state operated mental health facility will go towards infrastructure improvements and mental health services, such as new technology to assist mental health providers, permanent supportive housing and programs to keep people with mental illnesses out of the criminal justice system.
The Tinley Mental Health facility was one of several closed by Governor Quinn in 2012 in an effort to save money and shift state resources for the mentally ill and developmentally disabled away from state-run institutions and into community-care settings.
The legislation, Senate Bill 822, received unanimous support in the Senate and now awaits action by the House.
Category: Press Releases