Created: 16 April 2014
Published: 16 April 2014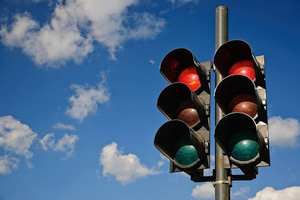 TINLEY PARK – State Senator Michael Hastings (D–Tinley Park) met with Tinley Park Village officials on Tuesday to announce an investment of $200,000 to install a new traffic signal at Timber Drive and 80th Avenue near the Metra line. The investment was funded by the Illinois Jobs Now! plan, a $31 billion construction program initiated by lawmakers in 2009 to support new and existing infrastructure projects across the state.
"Installing this traffic signal has been a major priority for the Village and I'm extremely pleased that we were able to work with state officials to get this grant approved," Hastings said. "Anyone who lives in Tinley Park knows that traffic is congested after the train lets out. It will allow for better traffic flow at peak hours and eliminate the need for police to direct traffic."
The traffic light will be installed at one of the busier intersections in the Village. Currently, the Village spends nearly $25,000 for traffic detail at the corner during peak rush hours because of safety concerns.
"My top priority is to find funding to invest and develop our area," Hastings said. "The traffic light will not only make it safer for drivers and pedestrians, but it will also save the Village money."
Category: Press Releases