Published: 28 August 2014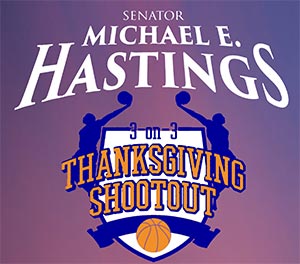 SPRINGFIELD - The hoops season is just around the corner and Illinois Senator Michael Hastings (D–Tinley Park) is celebrating the tip-off of the basketball season by hosting a 3-on-3 Thanksgiving Shootout this November 1.
The main goal of the shootout is for children to come together in a positive environment to compete and learn to play together with family and friend support at a free event for he community.
Boys and girls in the third through eighth grades will compete at the Matteson Community Center, with the first games tipping off at 9 am. The 64-team tournament is co-ed and free for all participants.
"I want the shootout to be about more than just basketball games. Families and friends in the community can come together for a free event, spending time together enjoying food, half-time entertainment and giveaways for everyone," Sen. Hastings said.
There are three divisions: Orange, White and Blue, separated by grade levels ranging from 3-4, 5-6 and 7-8. With a four player max roster, the teams will compete for a chance to play in a championship game per each division. Trophies will be awarded to the division's winner.
"On the court, basketball is more than just a game. It's is an experience in character development, strategy, and team unity," Hastings said. "And honestly, I can't wait for the kids to get on the court and show off their skills on the hardwood."
Registration may be completed by mail or in-person. All in-person registration will take place at the Matteson Community Center. Forms for mail-in/fax registration may be found at www.mattesoncommunitycenter.com. The deadline for registration is October 24, 2014.
Category: Press Releases