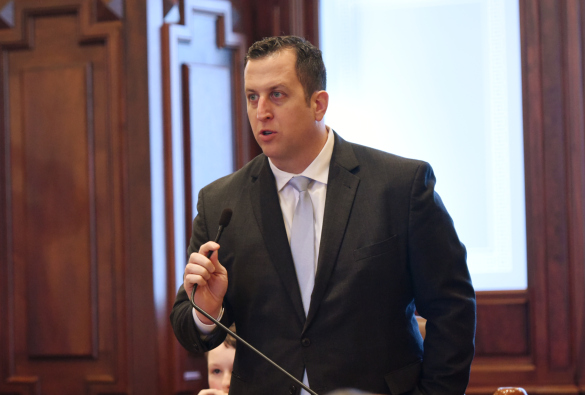 SPRINGFIELD – A new measure in Illinois may soon raise the minimum age to purchase tobacco to 21 years old.
State Senator Michael E. Hastings helped pass House Bill 345, prohibiting the purchase or possession of alternative nicotine products, electronic cigarettes and tobacco products by individuals under the age of 21.
Hastings said this law could dramatically lower the number of people who start smoking and become addicted to smoking by preventing sale during the brain's developmental teen years.
"More than 90 percent of smokers pick up smoking before the age of 21," Hastings said. "This new law will help us curb teen tobacco use and help save lives."
Raising the minimum age for purchase of tobacco products from 18 to 21 is a fast-growing, nationally-recognized youth tobacco prevention strategy. Illinois will be joining California, Hawaii, New Jersey, Maine and Oregon as states that have enacted statewide Tobacco 21 laws.
"This initiative is a major step forward in improving the health of residents and improving our quality of life in our state," Hastings said. "Tobacco 21 will double down on our efforts to reduce the number of teen smokers, moving us one step closer to a healthier, smoke-free Illinois."
Limiting access to cigarettes has proven effective in reducing the rate of tobacco use among teens. In October 2014, Evanston became the first Illinois community to adopt Tobacco 21. Since then, tobacco use among high schoolers has dropped by 37.5 percent in that community.
HB 345 now goes to the governor's desk for approval.