Published: 24 October 2014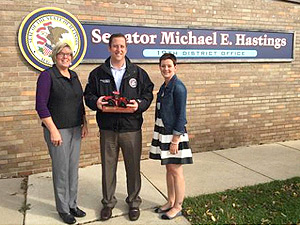 The IFB presented Senator Hastings with this award
in Matteson on Monday afternoon.

TINLEY PARK – The Illinois Farm Bureau awarded State Senator Michael E. Hastings (D - Tinley Park) the "Friend of Agriculture Award" for his continued support of Illinois' farming community.
Local farm bureau trustees chose Sen. Hastings for the award because of his strong voting records and his support of legislation that significantly improves Illinois agriculture.
"Senator Hastings is a great advocate for agriculture in the state of Illinois. He partners with farmers down in Sangamon County to learn more about one of the largest industries in our state," said Cook County Farm Bureau's Bona Heinsohn. "Moreover, he supports farming legislation in our state."
"Being selected as a "Friend of Agriculture" is really an honor—especially knowing the decision was made by local county Farm Bureau leaders and members," said Hastings. "I'm truly grateful for not only the award, but the friendships I have made across our great State of Illinois."
Category: Press Releases