Published: 03 December 2014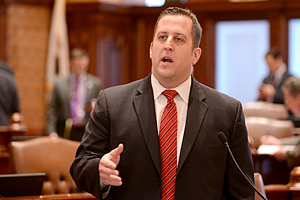 Latest state to outlaw "revenge porn"
SPRINGFIELD – In an effort to curb the growing cyberbullying phenomenon known as "revenge porn," State Senator Michael Hastings (D–Tinley Park) passed legislation today that would make it a felony to share sexually explicit videos or photos of another person, without their consent.
"Unfortunately, there are situations where a jilted lover who, in act of vengeance, distributes an image or video that was made in private," Hastings said. "And with the rise of social media, it is now easier than ever for those photos to be passed around like a dirty note in class."
Revenge porn is the act of posting or sharing sexual images or videos of an ex-partner as a form of revenge after a break-up. Oftentimes, the posts include names, addresses, e-mail addresses and other information that invites varying forms of harassment, including cyberbullying and cyberstalking.
It has become a quickly growing trend, and women are the majority of those being victimized. According to the End Revenge Porn campaign, one in 10 ex-partners has threatened to post explicit photos of their partner online; 60 percent of those followed through on their threats. 90 percent of victims of revenge porn are women.
"It's psychological abuse to the highest degree and is intended to humiliate, threaten and control the person depicted in the image or video," Hastings said. "It can be extremely devastating to an unsuspecting victim. There are reported instances where the victims are forced to leave their job, change their name and even move to escape the barrage of unwanted harassment."
In Illinois, it is illegal to post identifying or graphic information of a minor, or an adult without consent, on a pornographic site, but there is currently no state law to prevent exes from sharing explicit photos after a bad breakup. If passed, the law would make revenge porn a Class 4 felony, punishable by up to 3 years in jail and a $25,000 fine.
The proposal, Senate Bill 1009, was approved by the House 112-0 and by the Senate 53-0. It now awaits the governor's signature.
Category: Press Releases