Published: 30 December 2014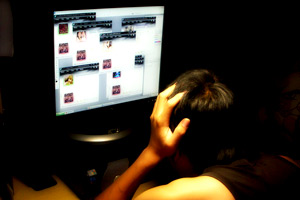 SPRINGFIELD – A tragic local death first led Illinois Senator Michael Hastings, a Tinley Park Democrat, to begin researching cyberbullying and ways to fight it.
In doing that research, Hastings learned of a heinous form of internet intimidation known as "revenge porn" that slipped through antiquated loopholes in state law.
"Unfortunately, there are situations where a jilted lover who, in act of vengeance, distributes an image or video that was made in private," explained Hastings. "And with the rise of social media, it is now easier than ever for those photos to be passed around like a dirty note in class causing extreme embarrassment and destroying reputations and lives."
Hastings response was SB 1009, which seeks to deter such activity by making it a felony to share or otherwise distribute online sexually explicit videos and photos of another person without that person's consent. The governor signed that legislation into law on Monday. It takes effect on June 1, 2015.
In Illinois, it is already illegal to post identifying or graphic information of a minor, or an adult without consent, on a pornographic site. However, there had been no state law to prevent a former partner from posting or distributing explicit photos or videos that had been shared privately.
Hastings' SB 1009 closes that loophole and makes violations a Class 4 felony punishable by up to three years in jail and a $25,000 fine. (See details below)
Hastings said he was shocked at how frequently this abuse occurs. According to the End Revenge Porn campaign, one in 10 ex-partners threatens to post explicit photos and roughly 60 percent follow through. Women are overwhelmingly the target of such intimidation.
"It's physiological abuse to the highest degree and is intended to humiliate, threaten and control the person," Hastings said. "It can be extremely devastating to an unsuspecting victim. There are reported instances where the victims are forced to leave their job, change their name and even move to escape the barrage of unwanted harassment.
"It is my hope that this law will make people think twice and offer some protections," he said.
SB1009: This legislation comes in response to the recent phenomenon of posting "revenge porn" on the Internet. "Revenge porn" refers to the non-consensual distribution of sexually explicit photos or videos, which had been shared privately. The name stems from the majority of reported situations in which people post sexually explicit photos or videos of former lovers on the Internet. This is often accompanied by personal identifying information and, at times, distributed to the former lover's friends, family and coworkers. Some individuals and websites have even charged people to remove their own photos or videos from the Internet. This legislation also provides several exemptions and allows the forfeiture of any property used in the commission of the crime.
DETAILS: SB1009 creates the Class 4 felony offense of "non-consensual dissemination of private sexual images". This occurs when someone:
1. intentionally disseminates an image of another person:
a. who is at least 18 years of age;
b. who is identifiable from the image itself or information displayed in connection with the image; and
c. who is engaged in a sexual act or whose intimate parts are exposed, in whole or in part; and
2. the person disseminating the image:
a. obtains the image under circumstances in which a reasonable person would know or understand
that the image was to remain private; and
b. knows or should have known that the person in the image has not consented to the dissemination.
A Class 4 felony carries a penalty of 1 – 3 years imprisonment, up to 2.5 years probation and/or a fine of up to $25,000.
Finally, SB1009 provides that a person convicted of this offense is subject to forfeiture of any proceeds or property, including any interest in any businesses, acquired or maintained from the commission of this offense.
Effective date: June 1, 2015
Other States: To date, 15 states have passed laws criminalizing revenge porn: Alaska, Ariz., Calif., Colo., Del., Ga., Hawaii, Idaho, Md., N.J., N.Y., Pa., Utah, Va. and Wis.
Note: Federal Law, the Communications Decency Act, 47 U.S.C. §230, provides that service providers are not considered the publisher of nor are liable for things posted using their services.
Category: Press Releases