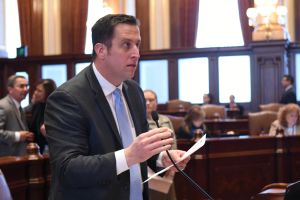 SPRINGFIELD — State Senator Michael E. Hastings (D-Tinley Park) voted against a proposal that would rewrite the school funding formula in Illinois.
"There is no doubting the inequity in funding between schools across Illinois," Hastings said. "However, Senate Bill 231 would have devastating effects on K-12 education throughout the south suburbs."
The proposed legislation would reduce general state aid for south suburban schools and require that local schools become more dependent on property taxes. Furthermore, SB 231 would result in nearly 11,000 of the 32,000 students in the 19th Senate District to lose funding for their education.
Elementary and high schools across the 19th District could lose anywhere between $1 million to $4 million per school district annually.

"We pay an extraordinary amount of property taxes in the suburbs. SB 231 would cause our area to lose approximately $10 million in education funding and would shift this cost to residents by way of property taxes," Hastings said. "As a former school board member, I worked hard to balance our budget and act financially responsible. We should not punish responsible school boards, but we should demand fiscal responsibility of legislators in Springfield."
Category: Press Releases