Published: 18 February 2015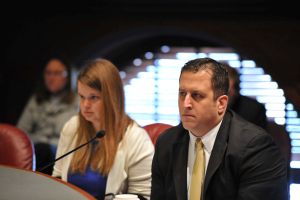 TINLEY PARK – Following the governor's budget address, Senator Michael Hastings (D-Tinley Park) offered his opinion on the budget plan.
"I give the governor credit for trying to tackle the budget woes of Illinois in the first few months in office," Hastings said. "I would like to support the governor on some of his initiatives regarding early childhood education and fixing the dangerous conditions for our state correctional officers."
However, Hastings was critical of the governor's proposed cuts.
"The cuts he proposed will have devastating effects on the working middle class families across Illinois, and us in the south suburbs in particular," Hastings said. "His plans include a $1.2 billion dollar cut to Medicaid, $23 million dollar cut to Early Intervention programs along with cutting local government distributive funds in half. I cannot stand for that."
Category: Press Releases