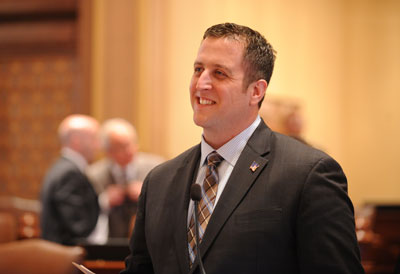 SPRINGFIELD – Yesterday, the Senate passed a measure that will help the family of a law enforcement officer who takes his or her own life due to mental health issues stemming from active duty.
Senate Bill 1653, sponsored by State Senator Michael Hastings (D–Orland Hills), allows the survivors of a law enforcement officer who takes his or her own life to be able to petition the Court of Claims for line-of-duty compensation – financial assistance given to the family of a fallen public safety officer. A mental health professional must establish that the suicide was a result of mental illness arising from the officer's active duty service.
"Suicide is an unfortunate reality in our society," Hastings said. "Not only do we have an obligation to ensure officers have access to treatment to help prevent these instances from occurring, but we also have an obligation to assist the families overcome these tragic incidences when they occur."
Suicide rates for law enforcement officers are higher than the general population. According to a 2012 study, suicides occur 1.5 times more frequently among law enforcement officials than in the general population. Law enforcement officers kill themselves at a rate of 18/100,000 vs. 12/100,000 for the rest of the US.
"Law enforcement officers perform their duties in constant, high-stress situations on a day-to-day basis," Hastings said. "They interact with individuals suffering from physical and psychological trauma and are often put in high-risk situations where mistakes can lead to fatal results."
Chicago Fraternal Order of Police President, Michael Shields, indicated that this measure should have been included in the initial passage of the Line-Of-Duty Compensation Act.
"Suicide is something that, unfortunately, plagues police departments across the state of Illinois," Michael Shields said. "This is something that should have been included initially when the line-of-duty death benefit became law and this was our way of following through to ensure that families that have already suffered such a devastating loss aren't left penniless."
Senate Bill 1653 passed the Senate 54-0 and now moves to the House for consideration.
Category: Press Releases