Published: 05 December 2018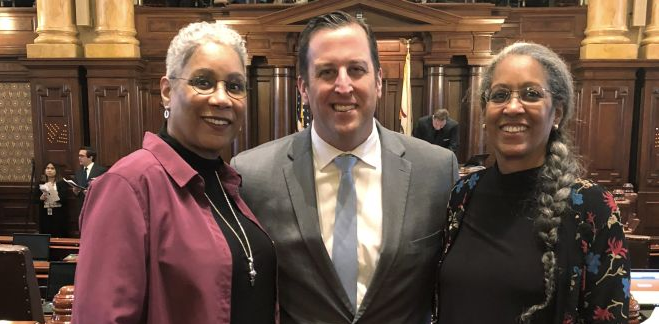 SPRINGFIELD – The Illinois Senate recently honored the sacrifices of an Illinois native that was a member of the historic Tuskegee Airmen.
State Senator Michael E. Hastings, a U.S. Army Veteran, passed a resolution honoring the late Robert Leander "Bob" Martin during the General Assembly's Legislative Veto Session. Martin was a fighter pilot with the Army Air Corps and one of the "Red Tails," a historic group of black fighter pilots that served in World War II.
"We must honor the endless sacrifices Captain Martin made to protect our great nation and to preserve the history of our heroes," Hastings said. "This brave leader devoted countless hours to preserving our freedom, then to preserving the legacy of the trailblazing Tuskegee Airmen long after his tenure in the service."
Martin served with the 100th Fighter Squadron of the 332nd Fighter Group in the European Theater of Operations. In March 1945, during his 64th and final combat mission, his plane was hit by ground fire while strafing the aerodrome at Zagreb, Yugoslavia, now Croatia.
He was forced to parachute from his burning plane and was rescued, spending the next five weeks at an allied mission before returning to his base in Ramitelli.
"Captain Martin dedicated his life to serving our country," Hastings said. "He lived a great life full of honor and love for our country and his amazing family."
Martin earned several service medals, including the Distinguished Flying Cross, the Purple Heart and the Air Medal with 6 Oak Leaf Clusters. He also earned a series of civilian honors, the most notable being the Congressional Gold Medal in 2007.
"Our state lost a true patriot," Hastings said. "We all must aspire to live a life dedicated to service to our nation, state and community as Captain Martin did. He will be missed tremendously."
Senate Resolution 2058 passed with unanimous support in the Senate.
Category: Press Releases