Published: 30 October 2018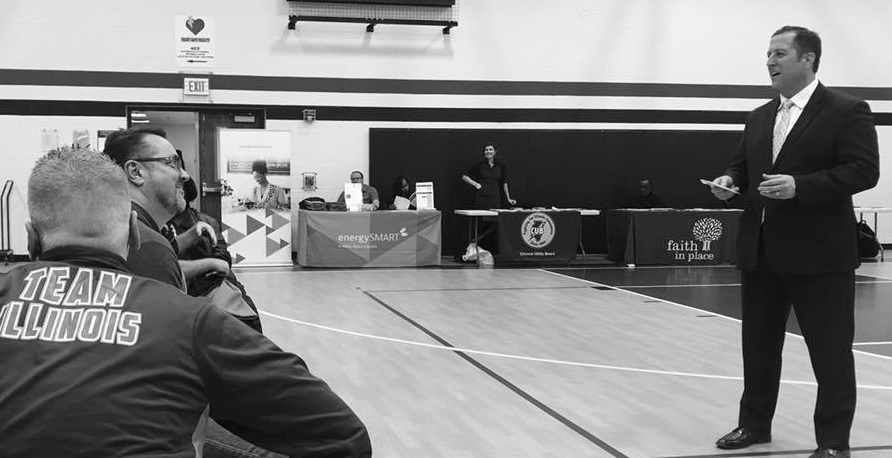 TINLEY PARK – Local residents were given a public forum to share input on clean energy efforts last week thanks to State Senator Michael E. Hastings (D-Tinley Park).
Hastings, the Chair of the Senate's Energy Committee, worked with environmental groups and energy associations to host a town hall meeting which allowed people to voice their opinions and give input on what initiatives need to be considered in Springfield to increase energy-efficiency programs, decrease utility costs and create great jobs in the South Suburbs.
"The future of energy is extremely important," Hastings said. "It's important that we consider the opinions and needs of the people of our communities before acting on major energy legislation in Springfield."
The town hall featured tables with information about energy programs and representatives of utilities and various groups.
"I want to hear what's important to you and hopefully take that back to Springfield and make some changes," Hastings told a packed room at the Virgil I. Grissom Middle School in Tinley Park.
Hastings worked in a bipartisan manner to implement commonsense clean energy legislation. The law was the result of negotiations among consumer advocacy groups, environmental groups, utility companies and energy policy stakeholders.
"The best policies are those that are a direct representation of the needs and wants of the people of Illinois," Hastings said. "It's absolutely vital that we all work together to pass meaningful legislation that will ensure our energy bills are affordable, protect our ecosystems and keep our lights on year round."
Category: Press Releases