Published: 14 December 2017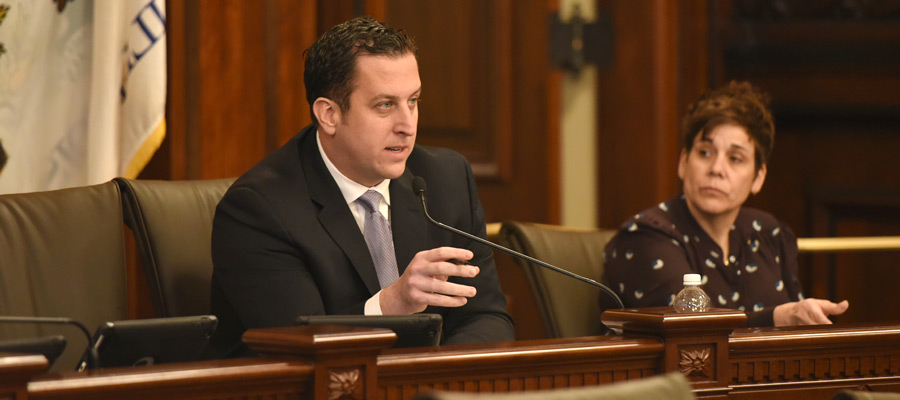 TINLEY PARK- State Senator Michael E. Hastings (D-Tinley Park) is outraged at the Federal Communication Commission's decision to eliminate net neutrality protections across the United States.
Today the FCC voted in favor of rolling back the 2015 net neutrality rules that were put in place to empower and protect Illinois consumers and their rights to an open internet.
"Big corporate utility corporations will now serve as gatekeepers of the world wide web," Hastings said. "The rollback of net neutrality rules means that the needs of consumers will now be put on the back burner as broadband providers engineer plans to profit and infringe on the privacy and freedoms we once had."
Hastings was a proponent of protecting those freedoms, and earlier this year he introduced a resolution in the Illinois Senate urging President Donald Trump and members of the United States Congress to continue to protect net neutrality and open internet access.
Supporters of net neutrality argue that rules that took effect in 2015 are the only thing standing between greedy utility companies and impaired internet use. Without net neutrality, those companies could have the power to throttle traffic, charge for expensive "fast lanes" and completely block sites that displease corporate entities.
This means those corporate entities would have full control over information transmitted into homes or business via the internet.
On Black Friday, over 200 companies such as Twitter, Pinterest and Airbnb signed a letter warning FCC Chairman Ajit Pai not to roll back net neutrality protections. The letter states that record Black Friday sales are "a testament to the power of the free and open internet to encourage entrepreneurship, drive innovation, make our lives easier, and to support a healthy economy."
"Our military men and women have fought to protect our democratic principles," Hastings said. "Freedom of information is a fundamental right our nation was founded upon. The fact Illinois citizens, organizations and businesses may now have to pay a toll to use the internet freely is a direct assault on our sacred values."
Currently, 47 nations across the globe have laws or regulations protecting net neutrality, including the European Union, Argentina, Norway, South Korea, Tunisia, Turkey, Japan, Mexico and India.
"Net neutrality shouldn't be a partisan issue," Hastings said. "The decision made today will not only impact U.S. citizens but our friends and allies across the world. It's our duty to work together to stand up against this injustice and I urge our federal officials to do the same. We cannot afford to accept policies that impede our basic freedoms."
Hastings looks forward to future hearings and discussions addressing net neutrality in Illinois during the legislative session.
Category: Press Releases