Published: 04 October 2017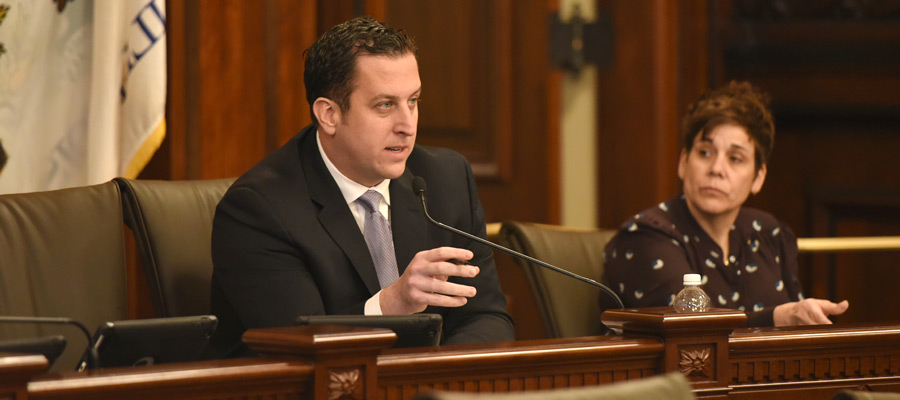 TINLEY PARK- State Senator Michael E. Hastings (D-Tinley Park) is proud to announce the state of Illinois will be observing National Cybersecurity Awareness Month throughout October.
"National Cybersecurity Awareness Month is a good opportunity for Illinois residents to educate themselves on new laws and scams to protect their personal information," Hastings said. "There are a number of resources available and new laws that will help us meet the technological challenges of the 21st century."
National Cybersecurity Awareness Month is an annual campaign to raise the awareness about the importance of cybersecurity. Hastings, who has been on the forefront of cybersecurity efforts in Illinois, said he hopes area residents will use this as an opportunity to educate themselves and engage others about new laws and precautions recently put in place in Illinois.
Hastings has worked on a number of new measures this year to ensure Illinois' laws continue to evolve with continuously updated technology.
The 2016 presidential elections were plagued with nationwide security breaches to 21 states' online voting systems, including Illinois' voter registration database. This week, Hastings announced Homeland Security confirmed Russian hackers were behind the breach.
Hastings' new bipartisan law, Senate Bill 707, institutes proper procedures and regulations for state agencies to report and remedy cybersecurity breaches that compromise confidential information.
"Elections are the bedrock of our nation's democratic values, and its critical for our citizens to know their vote is counted," Hastings said "This new law mandates Illinois residents be informed of any security breach affecting state agencies and takes steps to prevent similar security breaches from happening in the future."
As the Chairman of the Illinois State Senate's Committee on Cybersecurity, Hastings plans to hold additional hearings this fall to discuss legislative remedies for cybersecurity issues and to review further updates from the Illinois State Board of Elections.
Another law Hastings championed is the Student Online Personal Protection Act to ensure student data will be protected.
Technology continues to provide great benefits to children's learning experiences in Illinois. Schools and instructive organizations often use online platforms as core components of classroom experiences.
This new law will prohibit the operator of an educational website, online service or application from selling or renting students' information to third-party vendors. This prevents educational institutions from gathering information to engage in targeted advertising, and it prevents the gathering of student portfolios for any purpose that is not for the direct benefit and enhancement of the child's learning experience.
"The way our children learn has changed, we recognize that and we do not want to change that," Hastings said. "But parents and educators should not have to be worried about how companies use marketing tactics to target our children, so we are working to safeguard our students' privacy rights."
Hastings urges area residents to contact his Frankfort office with any internet security concerns or phishing schemes at (815) 464-5431.
Category: Press Releases