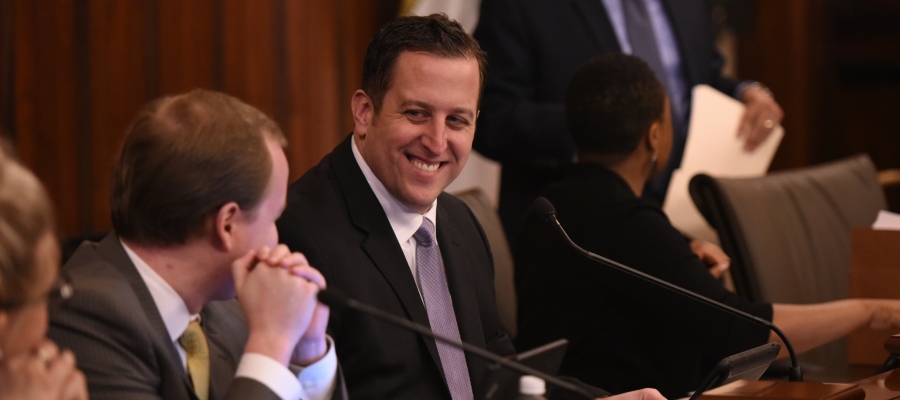 SPRINGFIELD— State Senator Michael E. Hastings (D-Tinley Park) championed legislation to establish best practices and consistent regulations to protect dogs and cats throughout Illinois.
Hastings worked with the Illinois Pet Lovers Association and the Illinois Humane Society to work toward establishing standards to protect the health and well-being of animals sold in Illinois.
"Our dogs and cats become part of our family," Hastings said. "It's our duty to put protections in place to protect our family pets' well-being as well as institute precautions to reunite dogs and cats with their families sooner if they are lost."
The primary components of this regulatory standard for pet stores:
• Prohibits pet stores from purchasing animals from large commercial breeders that are USDA-licensed and does not have direct non-compliance citations over a two-year period.
• Pet stores are required to microchip dogs or cats prior to sale.
• Requires pet stores to obtain copies of USDA inspection reports either from the USDA website (if posted online) or directly from the breeder prior to purchasing the cat or dog and must be available to consumers prior to sale.
These protections enhance public confidence in the health of the animal prior to purchase.
"We are pleased to say that after working closely with Senator Hastings and other stakeholders, SB 1882, the pet store bill, no longer includes the dangerous language that would have stripped localities of their right to regulate pet stores and voided existing pet store ordinances," said Marc Ayers, Illinois State Director of the Humane Society of the United States. "In addition, the bill now includes meaningful pet store sourcing regulations. As such, HSUS no longer opposes this bill. We thank Senator Hastings for addressing our concerns, and applaud him for doing what is right for both animals the people of Illinois."
Hastings worked with organizations and stakeholders throughout Illinois to develop a compromise to protect Illinois' dogs and cats.
"This legislation is the result of countless hours of negotiation to institute responsible and thoughtful pet industry regulations in Illinois to protect Illinois' dogs and cats," Hastings said.
Senate Bill 1882 passed the Senate with bipartisan support and now moves to the House for consideration.
Category: Press Releases