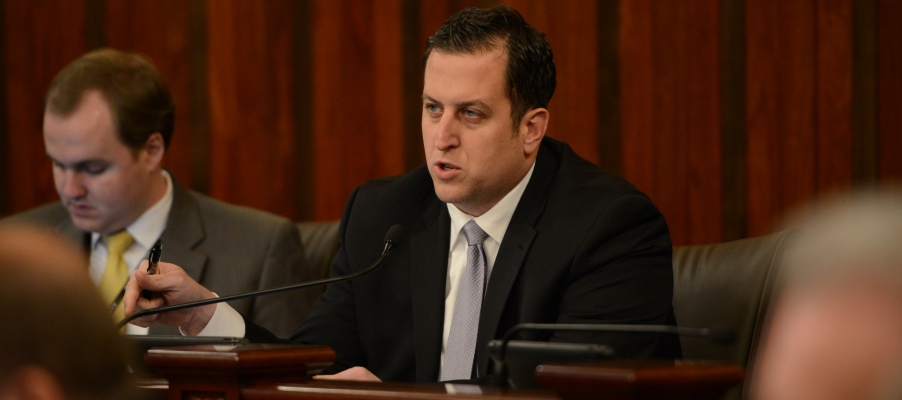 SPRINGFIELD- State Senator Michael E. Hastings (D-Tinley Park) is working to combat alarming veterans suicide statistics in the nation.
According to a recent study by the U.S. Department of Veterans Affairs, 22 veterans commit suicide every day in the U.S.
House Bill 2647 is a collection of comprehensive recommendations that work to ensure veterans have better access to services, treatment for mental trauma and depression as well as better access to employment opportunities.
State Senator Michael E. Hastings (D-Tinley Park), a former U.S. Army captain, is proud to be part of this vital initiative. Hastings served in Operation Iraqi Freedom and is in constant contact with many men and women from his unit.
As he meets with veterans in his community there is a common theme, disconnect between state and federal veterans benefits.
"Our nation's heroes shouldn't have to jump through hoops to receive benefits they qualify for," Hastings said. "The state and federal government is trying their best to make sure veterans have the necessary resources to transition back to civilian life. However, the hurdles, redundancies and extra paperwork they have to go through to actually receive the benefits don't make sense. Our goal is to streamline the process to ease the burden on our returning veterans."
This week, House Bill 2647 advanced with bipartisan support out of the Senate's Veterans Affairs Committee.
"One veteran that is lost to suicide is one too many," Cullerton said. "The proposals outlined in this legislation are common-sense solutions to help Illinois remove barriers between veterans and the resources they qualify for. This initiative wasn't compiled in haste but over hours and weeks of testimony, input and concerns raised by veterans, their loved ones and veterans organizations throughout the state. This is a true testament to their hard work and dedication to our nation's heroes. I'm proud to advance this measure and be part of this monumental effort."
A common theme throughout the process is finding ways to access veterans resources promised to the state as well as disconnect between federal and state resources. House Bill 2647 creates a connection between the Illinois Department of Veterans' Affairs and the U.S. Department of Defense to help streamline and remove redundancies when returning veterans redeem benefits.
Some of the provisions in House Bill 2647 include:
The DVA will be required to reach out to the U.S. DoD to identify veterans returning from units that have experienced heavy casualties, served in high-conflict areas or have at least one member who possibly committed suicide following their service. After identifying veterans DVA will create a proactive line of communication.
DVA will also work with higher education facilities to address issues that may negatively affect a veteran's ability to learn in a traditional classroom environment such as exploring the expansion of online classes, moving desks away from windows and crowded halls and providing veterans' only instructional hours.
DVA will be required to proactively reach out to the U.S. DoD to develop a system to allow veterans to file DD Form 214 (discharge papers immediately upon discharge). This is the required form for veterans to receive benefits.
Lastly, creating collaboration between local chambers of commerce and DVA to create an employer training program to focus on the needs of veteran employees and identifying veteran friendly businesses.
Hastings worked with Cullerton, chairman of the Task force on Veterans Suicide and a veteran himself, hosted multiple hearings throughout the state to hear from veterans, veteran spouses and community organizations to hear about their concerns and recommendations to ease some of the struggles returning veterans experience.
Category: Press Releases