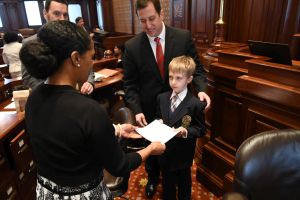 SPRINGFIELD –Senator Michael Hastings (D-Tinley Park) proudly introduced a resolution in the Illinois Senate to declare November 2016 Lung Cancer Awareness Month on the behalf of Ian Piet, a fifth-grader from Tinley Park in the 19th District.
Piet lost his father in 2015 to a fight with lung cancer, motivating him to become an advocate and fundraiser for a cure.
Working closely with a variety groups to find a cure and collect donations, Piet raised over $800. Participating in the Hancock Hustle, Piet took to the steps of the John Hancock building in Chicago and raised $200 by running up to the top of the building and met United States Senator Mark Kirk on his way up.
"People like Ian are our future and I am so glad to see young people fighting for a great cause like curing cancer," Hastings said. "I am proud to represent community leaders like Ian and join him in his fight to find a cure."
Category: Press Releases