Published: 09 October 2013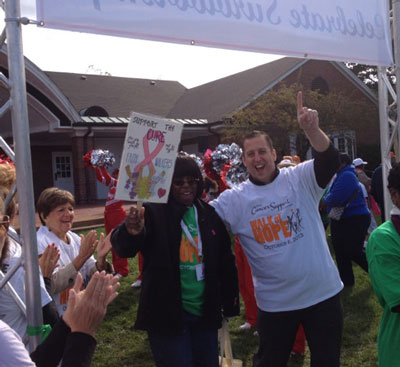 HOMEWOOD – On Sunday, Senator Michael Hastings (D–Orland Park) joined hundreds of cancer survivors, family members and friends for the Walk of Hope, a charity walk to raise money for childhood cancer research.
Hastings provided the opening remarks at the walk and noted that funding research is important to discovering new treatment methods.
"The Centers for Disease Control estimate doctors are diagnosing more than 18,000 cases of cancer for people under age 19," Hastings said. "That number is too high. I believe funding for cancer research must be a priority."
Hastings supported a measure in the spring legislative session to create an 11-member Childhood Cancer Research Board to work with the Illinois Department of Public Health to award grants to public and private not-for-profits to conduct research on childhood cancer.
According to the National Cancer Institute and the Centers for Disease Control and Prevention, cancer is still the leading cause of death for children over one year old. Cancer kills more children than cystic fibrosis, AIDS, asthma and juvenile diabetes combined.
Currently, the state's Childhood Cancer Research Board has the ability to provide funds for at least one fully-funded cancer research project grant.
Category: Latest