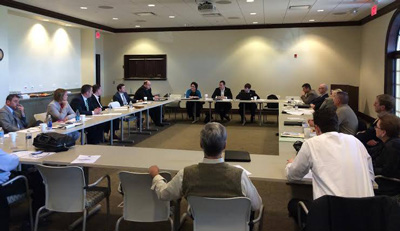 On April 2, State Senator Michael Hastings (D–Tinley Park) met with other members of the Illinois Discharged Servicemember Task Force and representatives from the Department of Veterans Affairs for a roundtable discussion focused on challenges faced by the veteran community.
The purpose of the discussion was to develop guidelines for legislation that will lead to increased opportunities for veterans relating to employment, education and entrepreneurship. The group focused on ways to expand college training programs, tax incentives and government contracts for veteran-owned businesses as well as updating state licensing requirements for veterans utilizing military experience.
"As the Federal Government continues to scale back the number of troops overseas, we are starting to see a greater number of post 9/11 veterans transition back to civilian life," Hastings said. "This task force was created to focus state and private resources in assisting with that transition."
Created in 2011, the Returning Veterans Task Force consists of members from specified veterans' organizations tasked with developing policy guidelines as well as coordinating efforts to open doors for returning veterans who have sacrificed for our nation.
Category: Latest