Published: 02 October 2013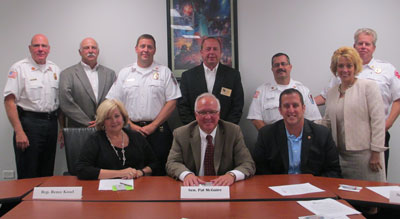 The Illinois Fire Safety Alliance (IFSA) and the Will County Chiefs recently hosted a Will County Legislative Forum at Station I of the Frankfort Fire Protection District. The event was attended by fire officials from over 20 fire departments/protection districts throughout Will County. State Senators Mike Hastings (D-Orland Hills) and Pat McGuire (D-Joliet) along with State Representative Renee Kosel (R-New Lenox) were the keynote speakers and provided an update of the current state of affairs in Springfield and ways in which the issues impacting the fire service could be addresses through legislation.
IFSA Government Affairs Director Margaret Vaughn provided an overview of fire service legislation awaiting action during the upcoming legislative session. The event wrapped up with a question and answer session in which fire officials had an open discussion with their legislators about local concerns.
Frankfort Fire Chief Jim Grady was pleased with the event. "The Forum was a great opportunity for local fire officials to ask questions regarding pressing issues such as EMS, fire fighter training and ways to improve response to expressway/Tollway incidents, just to mention a few," Grady said. "The lawmakers who attended were very professional and forthright with their answers. They are committed to supporting emergency services yet aware and even cautious on spending and our State's economic outlook."
"I appreciate the opportunity to discuss these issues directly with fire officials," Hastings said. "We need to continue to ensure that our first responders have the necessary tools to do their jobs and operate efficiently and effectively."

PHOTO: seated, first row: State Rep. Renee Kosel (R-New Lenox), Senator Pat McGuire (D-Joliet), and Sen. Mike Hastings (D-Orland Hills) Back row standing: Frankfort Chief Grady, IL Fire Safety Alliance Past President Jim Saletta, Mokena Chief Howard Stephens, IL Fire Safety Alliance President Jim Kreher, Joliet Assistant Chief Ray Randich, IFSA Government Affairs Director Margaret Vaughn, and Plainfield Deputy Chief Dave Riddle.
Category: Latest